DAVIS MILLER MAY: DOVES, CROWS & BUZZARDS
Davis Miller May is a high energy acoustic band featuring Brad Davis on acoustic guitar and mandolin, Dan Miller on bass, and Tim May on guitar, banjo, mandolin, and Dobro. Their music features vocals tunes and instrumental numbers from a variety of musical genres, including bluegrass, folk, country, blues, and swing. The strength of this band is found in their virtuosity on their instruments and their strong songwriting abilities. As soloists Brad Davis and Tim May are two of the finest performers on the acoustic music scene today. Since their first show together in St. Louis, Missouri, in 2005 the trio has performed at various venues and music festivals all over the United States.

In January of 2011 the trio went into the studio and recorded their first CD together. Doves, Crows & Buzzards presents a very strong mix of vocals songs and instrumental tunes, original tunes and well-known standards. The CD has received rave reviews, especially from acoustic guitar fans who enjoy the interplay of Davis and May's guitar work on tunes like "Farewell Blues," "Dinah," "Nine Pound Hammer," and "Angeline the Baker." Folk radio has embraced the title cut, "Doves, Crows & Buzzards," and the Merle Haggard cover "The Way I Am," and bluegrass DJs are spinning the Brad Davis original "Ramblin' Rollin' Stone." There is something here for everyone!
Buy a copy at Flatpicking Mercantile: http://flatpickingmercantile.com/Merchant2/merchant.mv?Screen=PROD&Store_Code=fs31&Product_Code=2534

Download at iTunes: http://itunes.apple.com/us/album/doves-crows-buzzards/id443300877?uo=4
FIND MY WAY BACK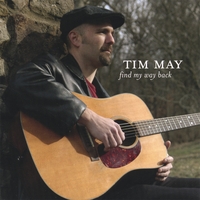 Pick up a copy of Find My Way Back, an artful mix of traditional and original tunes, and you'll discover why folks like Charlie Daniels and Patty Loveless call Tim when they need the strongest of flatpickers, both on their recordings and on the road. Tim's guitar work and vocals are ear candy all can enjoy. His delivery is at once clever, precise, fast, smooth and intelligent. In a word, he's awesome.
To hear clips, visit Tim's MySpace site.
To purchase: www.fgmrecords.com
The Sun Won't Shine On Virginia
Bill Cheatham
Your Worries and Troubles are Mine
The Streets of Laredo
I've Got a Feeling
Miss Nari
Find My Way Back
Paddy on the Turnpike
Sittn' on Top of the World
Limehouse Blues
Down by the Sally Garden
PLAIDGRASS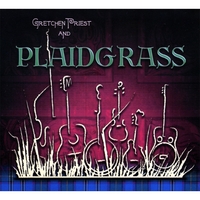 Tim and his wife, fiddler Gretchen Priest-May, are happy to announce the immediate release of their new CD, Gretchen Priest and Plaidgrass. The album paints a broad stroke between Bluegrass and Celtic music. All instrumental, the CD is filled with great material from beginning to end. Two cuts are written specifically for Contra dance. Tim wrote the second cut on the CD, the lovely waltz The Winds of Capri. All arrangements absolutely shine.
The project features Gretchen on the fiddle and 5-string fiddle, Brian Christianson on fiddle and mandolin, Tom Saffell on his custom 8-string banjo, Al Goll on resophonic guitar, Chris Joslin on 5-string banjo, Chris Fontaine on bodhran, Jeff Taylor on accordion and pennywhistle, Doc Holladay on bass, and Tim on guitar, mandola, mandocello and tenor guitar.
Waiting for the Federals/Elzic's Farewell/Rakish Paddy
The Winds of Capri
Brumley Brae
Cheyenne
The Star of Munster/Earl's Chair/Julia Delaney/Maid Behind the Bar
Star of the County Down
Rock-a-bye Baby
Bonaparte Crossing the Rhine
Bluegrass in the Backwoods
Elk River Blues
GOIN' ACROSS THE SEA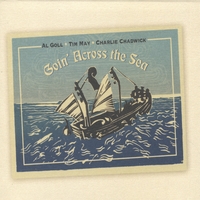 Goin' Across the Sea, the 2006 release by guitarist Tim May, dobroist Al Goll, and bassist Charlie Chadwick, is a great mix of Irish, Scottish and Early American music. It includes some selections that will rouse your feet to dance, and others that will wash over and through you as settle into your favorite comfy chair. While it is billed as "Yankee-Celtic", many of the songs are still popular in traditional acoustic music settings across the country.
To hear clips and purchase: CD Baby
Goin' Across the Sea
Riding on a Load of Hay/Star of Munster
The Star of the County Down
Angeline the Baker
The Streets of Laredo
Down by the Willow Garden
Off to California
Da Scallowa' Lasses
Sally Ann
St. Anne's Reel
Kesh Jig/Road to Lisdoonvarna
Pear Tree/Devil Chased Me
Goin' Across the Sea (reprise)
MOODY BLUEGRASS
Not just a tribute album, this cricitally acclaimed project produced by David Harvey takes the dream lyrics and instrumentals of the legendary progressive rock band Moody Blues and brings them back down to earth with some of the greatest vocal and instrumental talent in Bluegrass today. Two members of the Moody Blues -- Justin Haywoard and Graham Edge -- joined the crew at the Ryman Auditorium on October 10, 2005, for a live sold-out performance of the album. Tim was the session leader on the project which featured Tim on guitar and vocals, Andy Hall on guitar and dobro, Andy Todd on bass, Jan Harvey on vocals, and David Harvey on mandolin. David reports that he is currently producing Moody Bluegrass II.
To hear clips and purchase: www.moodybluegrass.com
Lovely to See You
Land of Make Believe
The Voice
The Other Side of Life
It's Up to You
Ride My See Saw
I'm Just a Singer in a Rock n Roll Band
Legend of a Mind
Your Wildest Dreams
Nights in White Satin
Late Lament
Never Comes the Day
SONGS FROM THE LONG LEAF PINES
Gospel. Bluegrass. Charlie Daniels. Earl Scruggs. Ricky Scaggs. The Whites. The McCourys. Chris Thile. What more can you say about great listening? How about: adding Tim May on guitar? That's what you get with Songs from the Long Leaf Pines -- Charlie Daniels: A Gospel Bluegrass Collection. Tim's solo work on I'll Fly Away earned Daniels a 2005 Grammy Nomination for Best Instrumental Performance.
To hear clips and purchase: www.charliedaniels.com
Walkin' in Jerusalem (Just like John)
Preachin', Prayin', Singin'
I've Found a Hiding Place
I'm Working on a Building
The 91st Psalm (recitation)
Keep On the Sunny Side
Softly and Tenderly
The Old Account
I'll Fly Away (instrumental)
How Great Thou Art
The 23rd Psalm (recitation)
What Would You Give?
The Old Crossroads
CRUCIAL SMITH 1988-2003
For 15 years, Crucial Smith was one of the hottest bluegrass bands in Nashville. Tim met Kyle Wood (mandolin), Chris Joslin (banjo and dobro), Dave Holladay (bass), while attending David Lipscomb University in the late 80's. The four also met Pat Flynn of Newgrass Revival fame, who produced two albums for the group. Tim calls Flynn "the most versatile guitar player in the world, he can play any style of music in the pocket." Flynn captured Crucial Smith at their finest.
Their first album, the self-titled Crucial Smith produced by Pat Flynn in 1998, is now out of print.
MORNING LIGHT
Morning Light was the second CD cut by Crucial Smith produced by Pat Flynn. The first album was the self-titled Crucial Smith. The album is a high-energy collection of traditional and contemporary tunes, featuring tight harmony and blazing fast flatpicking.
To hear clips and purchase: County Sales
Cry
Norfolk Captain
Rebuild the Union
Please, Please Me
Falling in Love
Silver Moonlight
Slow It Down
Last Love Letter
King of Babylon
Morning Light
St. Anne's Reel
Light of the Moon
NINE LIVES
Nine Lives is a self-produced live album, the last CD featuring the four members of Crucial Smith before the group disbanded in 2003, plus Gretchen Priest-May adding fiddle. It's a delightful array of the best of Crucial Smith.
To hear clips and purchase: County Sales
Gravel Walk
Polly, Pretty Polly
Lonesome Prospect
Game of Chase
Please, Please Me
Beg You to Stay
Tam Lin
Why Oh Why
John Hardy